For several months now, our ambassadors have been carrying out tests with the GMOVE-SUIT. Discover their first feedback and feelings !
Johan Quintard, triathlete and physiotherapist
"I have to say that the most frequent use is on the 0G mode, but I am really surprised by the efficiency of the 4G BOOST mode, which allows you to "bump into" for quick results, with less load and therefore less risk of injury. The recovery is faster and gives the possibility to link the sessions more quickly. As a result, there is inevitably a progression in performance by improving recovery and allowing an increase in muscle strength with adapted exercises but using less load. In short, you get an increase in performance while limiting and preventing the risk of injury."
"With 0G and 2G modes, you get a faster recovery and shorter-lasting muscle soreness. It's an innovative, high-performance device, a real complement in a sportsman's preparation".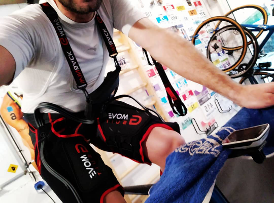 0G : "I am using it for passive recovery on the evenings before competitions, and also during the evenings after big training sessions (in front of the TV, it's great). I also took a rhythm of one to two sessions of 10 to 20 min of reinforcement during my breaks at work. I appreciate the fact that I can get up and keep moving if I need to. I think it allows me to enjoy it more."
4G: "I use the program in 10 to 20 minutes sessions at work, which is very convenient. I couple this to plyometric movements, squat, chair, lunges…
It's great to be able to add "weight training" sessions in such a short time, and anywhere!"
"The strong points of the GMOVE-SUIT are, without hesitation, its portability and the freedom of movement it allows. I am convinced that it is a tool to improve one's sports preparation, in particular to optimize recovery between sessions. It's also a real plus to be able to easily – and without equipment – add a few reinforcement sessions, where I wouldn't have had the time to put in a real workout."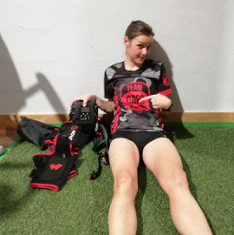 0G: "The effects are immediate; the legs are immediately lighter and the next day on waking up the aches and pains have disappeared."
2G: "I use this program for immediate post-race recovery, to avoid clogging the legs with lactic acid and to reduce the aches and pains of the next day. I do this program most of the time on home trainer."
"It is undeniably a revolution in terms of dynamic recovery/pressure therapy. You can take it on a trip during sports training sessions, which is very practical, choose the duration of the program, the pressure… It is an equipment which allows the optimization of the recovery, but which is also a good solution to accompany the athletes in period of rehabilitation, when they must find muscular strength without necessarily carrying heavy loads."
Romain Thery, triathlete participating to the Iron Man Hawaii 2019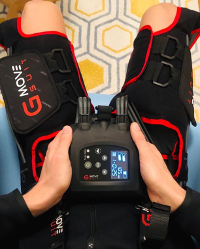 "I only use it in protocol 1 for my recovery, it's very relaxing."